Bitty Blank Dimensions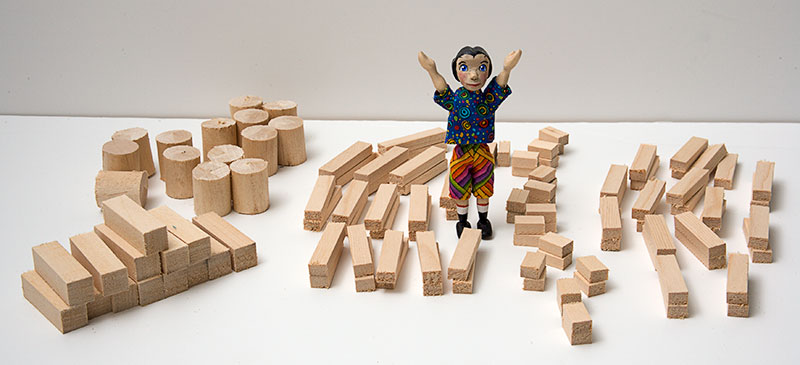 | | | |
| --- | --- | --- |
| Part | Stock | Dimension |
| Head | 3/4" to 1" dowel | 1" long |
| Torso | 1/2" square | 1 3/4" long |
| Legs | 1/4 x 3/8" | 1 1/2" long |
| Feet | 1/4 x 3/8" | 5/8" long |
| Arms | 1/4 x 3/8" | 1 3/4" long |
| Neck peg | bamboo skewer | 1/2" long, trim as needed |
| Ankle pegs | toothpicks | 1/2" long, cut off on foot bottom |
The torso has a neck hole in top center, a shoulder hole 3/8" down from the top, and a hip hole 5mm up from the bottom.
Each arm and leg has a hole 4mm from the top.
Each leg has a hole in the center of the bottom, and each foot has a hole 4mm from the heel.
Arms can be beveled on the top inside to help hands clear the hips.
Head blank has a cheek and nose shelf (see pictures.) The shelf is 2mm deep, and tapers up at a slight angle to the top of the head.